With eStar One Mail, you don't just get an e-mail service. We also provide a range of organizational and groupware tools that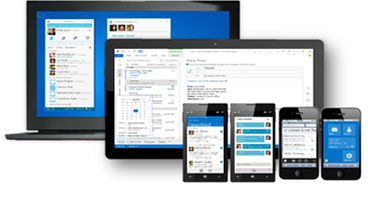 will help keep your business running smoothly and efficiently from any Internet connection worldwide.
Satisfaction-Guaranteed Uptime
If your business email is down, business can come to a standstill. That's why we have a rock-solid SLA to protect you. Since you're not locked into a long-term contract, we need to keep you happy to keep your business.
Premium Spam & Virus Protection
To keep your systems safe from email-borne threats, messages received from external mailboxes undergo three spam and virus scans.
Easy Transition
Breeze through the setup of your hosted email service with a dedicated Transition Team member walking you through the necessary steps. Need migration assistance? We can help.
Read Email Anywhere
Use your existing software, such as Outlook, Outlook Express, Thunderbird, Eudora, Mac Mail, etc.
Works with Exchange
Save money with the Exchange Hybrid. This option offers Exchange mailboxes, plus, affordable, full-featured, eStar One Mail mailboxes on a single domain. We make business email affordable for all businesses.
Shared Calendars and Company Directory
Share your calendar with multiple users, create multiple calendars, and import events from other calendar sources. Quickly access users' information from the shared Company Directory in the email interface or create personal contact lists to keep track of frequent contacts.
Mobile Sync for eStar One Webmail
Sync your Email, Contacts and Calendars between your webmail account and your smartphone with Mobile Sync for eStar One Webmail (additional $1.50/month).
25GB Mailboxes
No need to delete. Our 25GB mailboxes hold up to 10 years worth of email, and we're working to make them even larger.
Control Panel
Manage your entire hosted email environment, including permissions, storage, mailbox creation, and more with just a few clicks using our intuitive Control Panel.
Secure Encryption
Latest SSL encryption techniques hide data during transmission so Internet crooks can't access your sensitive mail.
Ad-Free and Privacy Guaranteed
Unlike hosted email services such as Google Gmail™, Microsoft Hotmail®, and Yahoo!® Email we don't read your email, and we never show you ads.
Daily Backups
Email data is saved nightly to top tier data centers. Restore from the past 14 days directly from the Control Panel at no additional cost.
50MB Attachments
With eStar One Mail, inboxes won't choke on photos, videos, and other large file attachments with twice the attachment size limit of other providers.
Auto-Setup Tool
Instantly detects and configures Outlook, Thunderbird, and other popular email software. Easily set up a new email account or adjust settings for an existing account.
API Integration
Integrate our services into your workflow with our REST API. You'll have programmatic access to manage Admin Users, eStar One Mail & Exchange Mailboxes, Spam Settings, and Single-Sign-On capabilities.
Find out more about our eStar One Mail today!